Interviews with Michelangelo Verso


You can read the last and most recent interview of 28/05/2004 for
"The Belgian Opera Guide" by Patrick C. Byrne here
Patrick Byrne is an excellent art critic and is also the author of the book
"The Colors of Callas"





Here below follows the interview of 31/10/96 for Sicilia Online
by Stefania Morici

Michelangelo Verso, tenor
A trip back in time, to the discovery of a piece of the history of grand opera.


(English translation by Miss Gilda Tabarez)
Like turning the pages of a photo album from another
era, or like sipping a rare liqueur: a trip back in time,
to the discovery of a world that no longer exists and
which we, the post-war generation, have only known
through our fathers' stories, black and white photos
and old film clips...
Michelangelo Verso, citizen of Palermo, born in 1920,
after having toured the whole world, after having sung
with Beniamino Gigli, with Maria Caniglia, with
Cesare Bardelli, after appearing with Josephine
Baker, Edith Piaf and many other irreplaceable stars
of this nostalgic firmament, he continues still to make
recordings and to sing in public with the same love
and enthusiasm as at the beginning of his career.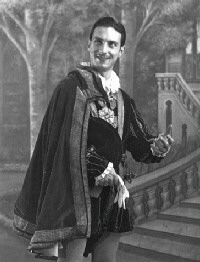 Michelangelo Verso, for the past forty years you have been travelling the world
singing in operas, concerts, television and radio broadcasts.
What do you remember of your first debut at the "Massimo" Theatre of Palermo,
on December 2, 1949, in concert with the great tenor Beniamino Gigli?

That has been the most exciting experience of my life. My first truly "important" experience.
I remember that they were presenting a lot of young people who wanted to sing for the
benefit concert organized by Gigli. Among so many candidates, I didn't think I would be
selected. When they chose me I couldn't believe it, my legs started to tremble, and I was
afraid that I wouldn't be able to make it. Fortunately, that was not the case, rather, I had the
honour to open the concert with "Vieni" and then to close it with "Che gelida manina".
It was a great success. From there practically began my career: my first contracts, my first
trips, my first contacts with the record companies.

When did you discover your passion for lyric opera?

Singers are born, you can't become one.....
I remember when I was small, at the age of six,
I was already singing as a soloist in a church on
Candelai street where my family had a hotel.
The parish priest had taken me to his heart,
because I had a natural voice, sincere,
naturally the clear voice, of a child.
The opera, .....opera singing was practically born in me.
Yes, I have studied song, I have won numerous
scholarships, one of the most important at the
International Academy of Chigiana di Siena,
where I perfected my voice. Opera has always been
in my blood and has always been in my heart.

And yet, you have continued your career distancing yourself from opera
and dedicating yourself ever more to songs.

Yes, that's true. My passion was lyric opera.
But then I travelled with my family, I had a wife and she was about to give birth to my son.
In order to survive, to support the whole family, I was forced to devote myself also to songs.
In an opera season I could do in all, about, ten recitals, and I couldn't afford to wait for
another year. I must say, however, that songs have given me a lot of satisfaction.

In fact, you have become famous for being the first interpreter of the very famous
Sicilian folksong "Vitti 'na Crozza'.

Yes, I was the first one to have recorded it on a
Cetra record back in 1951. They asked me to
make a record of it, actually Franco Li Causi,
from Agrigento, who had written the music and
text. Seriously, I didn't think that it would have
such a success, even international. The music was
even included in the film "Il cammino della
speranza", of Pietro Germi. I must say that,
unfortunately, I didn't have the business sense to
exploit the success of this song. I thought about
opera, and then, I believed the two things ought
to stay separate. Opera is a serious matter, I
thought. Mind you, that isn't to say that I didn't
love the songs of my homeland, on the contrary.
But, as I said before, opera was my true passion
and in this way I went to America.

Do you have some regrets? What would you not do again?

Probably I would do it the same all over again. The rewards have been many.....
Perhaps the most serious error has been to have trusted in my Italian-American managers
who, taking advantage of the fact that I didn't speak English, they did nothing other than to
exploit me taking up to fifty percent of my receipts. I remember that, in America, I arrived
to do up to five shows a day: Matinees, then I did radio, the telecasts, the theatre and,
finally, also the night-clubs. Five shows: not even time to eat.
I believed that America would be different. And instead, I was deceived by some
incompetent Italian-Americans. If my managers had been more honest we would both have
been able to profit, and perhaps I would have made a greater fortune in opera singing.
I remember that Beniamino Gigli had warned me and had recommended me to first make
a name for myself in Italy, and then go to America. But I didn't follow his advice.
How could I? In 1953 I got a $10,000 contract--how could I refuse?

If you had to choose, between your memories of
the particular experiences that have given you the
most satisfaction, which would you choose?


Well, being a good Sicilian, attached to my homeland,
I have been happy to have been the first one to record
"Vitti 'na Crozza". When I recorded it, no one had
ever heard of it, now it is the most famous Sicilian song
in the world, the equivalent of "O sole mio" for the
Neapolitans. Naturally, I would choose then the debut
at the Theatre Massimo of Palermo, with
Beniamino Gigli; the maiden voyage of the
Andrea Doria, in 1953, where I sang, and finally my
debut at the Pittsburgh Opera, in "Barbiere di Siviglia".
These are, surely, my greatest joys.

You have sung with big names such as Gigli, the soprano Maria Caniglia, the
baritone Cesare Bardelli, Mario Del Monaco, have known Maria Callas,
Amedeo Nazzari, Giuseppe di Stefano, Mina and so many more.
In all these years, in your memories, to whom have you remained particularly tied?

To the tenor Giuseppe di Stefano , without a doubt. Rather, it seems really that the
history of the great tenors of my era concludes with Di Stefano. He was a true poet,
who has sung from the heart. We often keep in touch, still today, by telephone.
After Caruso, he has been for me a great revelation.

Who, according to you, was the greatest opera singer?

Not only for me, but for history, the great Caruso, who I have been able to know only
through his records. All it takes is listening to just one romantic aria such as "La donna e
mobile" to realize that he succeeded in sustaining some cadenzas that no others have been
able to repeat as well.

Today who, in your opinion, is the new Caruso?

Today there is no new Caruso.
Yes, there are many well-trained artists, but,
perhaps, their way of singing is, as I would say,
too technical, almost like a robot. Once, Del
Monaco, Gigli, Di Stefano--they gave one
hundred percent; they truly gave all of
themselves. The same with Caruso, this is
history, that when he finished singing
"I Pagliacci" he would have two secretaries
assist him to his dressing room, because he was
exhausted and didn't have any more strength, he
had given everything. And the public understood
this, they saw that the artist gave all of himself:
in his temperament, in his way of singing, in the
expression of his phrasing, reciting, and in the
interpretation of what he sang.

What should opera be, in your opinion?

For me, opera should be expression of the sung word, as Di Stefano also said, through a
variety of colours. Today, unfortunately, opera is not so colourful, it lacks polish and
smoothness. As Gigli said: "Before one can sing it is necessary to act, to always interpret
that which one sings." To transmit enthusiasm or suffering, through the interpretation of the
meaning of the phrases, is surely the most difficult thing, but certainly the most important.
Instead today we have the angelic voices, as those of Carreras, Domingo, or of our
Pavarotti, who is surely one of the greatest tenors of the world, with an extraordinary
staying-power, like few others. But Pavarotti himself, as Di Stefano, too, and all the others
have affirmed that Caruso and Gigli have sung really giving their all.

Is there anything you miss today?

Youth. But I can't turn back anymore.

What do you hope for the coming years?

To still be able to continue singing.
I still have a good voice, and, if it were possible,
I would like to still give some concerts.

Stefania Morici




If you would like to read some personal memoirs and interesting anecdotes
about Gigli, related by Michelangelo Verso himself, please click here.
If on the other hand you would like to know more about the tenor Michelangelo Verso, start
with clicking on "Home" or click on one of the other links in the navigation bar below


[ Home | Biography | Photo-Album | Discography | Compact Discs | Letters ]







Author and webmaster: Michelangelo Verso Jr.
last updated on 06/08/2015

Copyright © Michelangelo Verso